Big. Tough. Tiller.
With a 14° deadrise V hull, this boat tracks beautifully and can take the rough conditions. The integral chine flats deflect spray out and away from the sides, making for a dry ride even in rough conditions. Add the control only a big tiller boat can give and you have an extremely useful craft.
The big open layout is roomy and versatile. Pile it up with lumber for building the remote cabin, load coolers and hunting supplies and still have room to bring home the big game, or enjoy the access to every edge of the boat without anything in your way while battling that big musky.
Specs:
Length: 19 feet
Beam: 8 feet
Rated for 90hp tiller
3/16" thick fully welded aluminum hull
Self-draining, welded in, floor/sole design

Rainwater drains overboard rather than into the bilge
Easy, spray-down cleaning

Low maintenance

No wood or carpet to need repair or replacement
No rivets to loosen
There has been interest in a version of the Predator 19 tiller that is smaller, but just as tough. Preliminary design and calculations, using the same 3/16" thick, all welded, 5083 hull, and a fully welded sole (floor) of tread plate, have been done. It would be ready for years of serious adventure that light duty recreational products just can't withstand, and for a comparable price straight from the builder.
Specs:
Length: 17 feet
Beam: 80 inch
Rated for 50-70hp tiller
3/16" thick, 5083 alloy, fully welded, aluminum hull
14° deadrise hull form with large flat chines to keep the ride dry and stable
Low maintenance

No wood or carpet to need repair or replacement
No rivets to loosen

Configurable seating locations
Optional livewell
Optional forward casting deck extension
Developing a new model requires a considerable amount of engineering and design work. We'll bring this one forward and finish it off if there is enough interest. If you like this idea, get in touch. With enough interest we can make this a reality.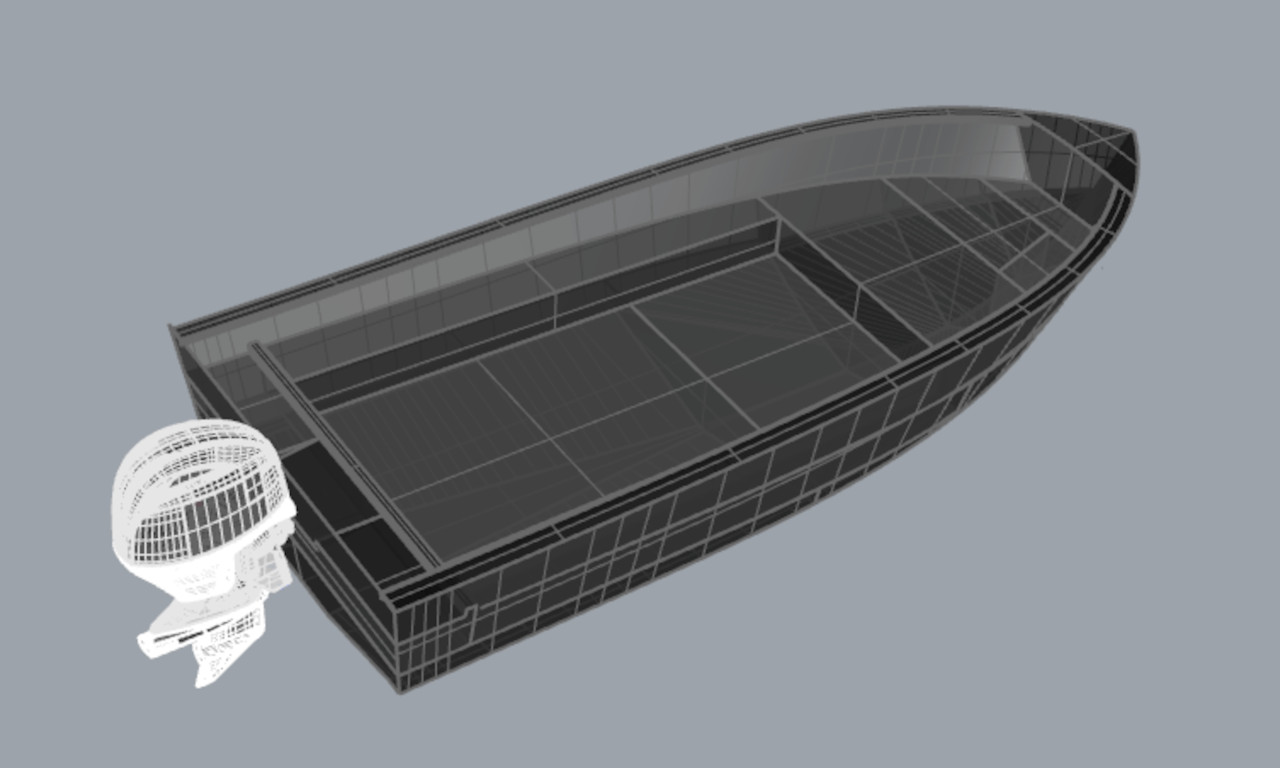 Rugged Utility Boat
The Rambler 15 is the classic Canadian fishing boat: a simple, solid and reliable tiller powered skiff. With no wood, carpet or painted surfaces to require maintenance, this fully welded aluminum boat will last through years of service.
Specs:
Length: 15 feet
Beam: 68 inches
Rated for 40hp tiller
3/16" thick, fully welded, aluminum hull
Low maintenance

No wood or carpet to need repair or replacement
No rivets to loosen
Specs:
Length: 18 feet
Beam: 8 feet
Rated for 150hp
3/16" thick, fully welded, aluminum hull
Forward console with walk through windshield
Self-draining, welded in, floor/sole design

Rainwater drains overboard rather than into the bilge
Easy, spray-down cleaning

Low maintenance

No wood or carpet to need repair or replacement
No rivets to loosen